ABOUT BAKR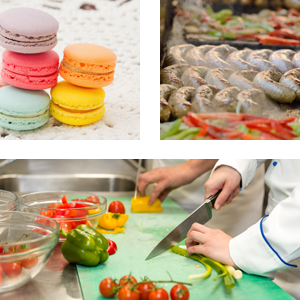 Bay Area Kitchen Rental (BAKR) is your local commercial kitchen and food truck commissary.   Our facility aims to offer Bay Area caterers, bakers, food truck owners, personal chefs, gluten-free cooks, confectioners, and the like, a hub to run their food business in a certified, health department-approved facility.
BAKR is open to its members 24 hours a day, every day of the year.  We strive to make our facility a comfortable and fun place where you don't mind coming to cook every day.  We want this to be your second home and for all its members to be a community of chefs who share in their enthusiasm for food.
Our facility has four commercial kitchens available for rent by the hour with plenty of cold and dry storage spaces available.  We have a food truck commissary yard with access to power, water, ice, and a wash down area.  And while most of your time may be spent in the kitchen or in your food truck, we also have a lounge/break room available for you to take a breather and some office space for you to conduct your business matters. Your safety is also important to us so we have alarm, surveillance, and key card access systems in place so that you can feel protected while working here daily.  We have future plans to host cooking classes at this facility so if you are interested, do not hesitate to contact us.
Can't wait to see you cooking up a storm in here!
Check out our Facebook, Twitter, and Instagram pages to keep updated on Bay Area Kitchen Rental latest news!
[Please note that we DO NOT offer food truck rentals.  We provide food truck services for existing truck owners.]